H
eeeelllllllloooooo everyone! Happy 4th of July! I am Grace Lauer,
Scrapbook News and Review
's Marketing Director, which means I am a
SNR STAFFER
and I have part of the secret code further down within this post. I want to welcome you to yet another blog on the
Scrapbook News and Review Card Universe
's "Oh Say Can You See" 4th of July Blog Hop. It's a big one isn't it? The more to inspire you with!
Want to know when where it begins... click
here
. If you came from Helen Dooley's blog:
http://tomorrowstreasure.blogspot.com/
you are on the right track! This is one large blog hop and I hope you are enjoying yourself. Lots of wonderful projects to make and learn from. What a wonderful way to get inspired on our countries birthday. I have a freebie for you and the piece of the code for the contest to win the 1 year subscription for
Scrapbook News and Review
!
I have a 4th of July fireworks card for you. This was a crazy card I created that was a little outside my box. Yet this was so fun to create and I had a blast mimicking a firework explosion. Here is a little explanation and instruction for you if you would like to create this card.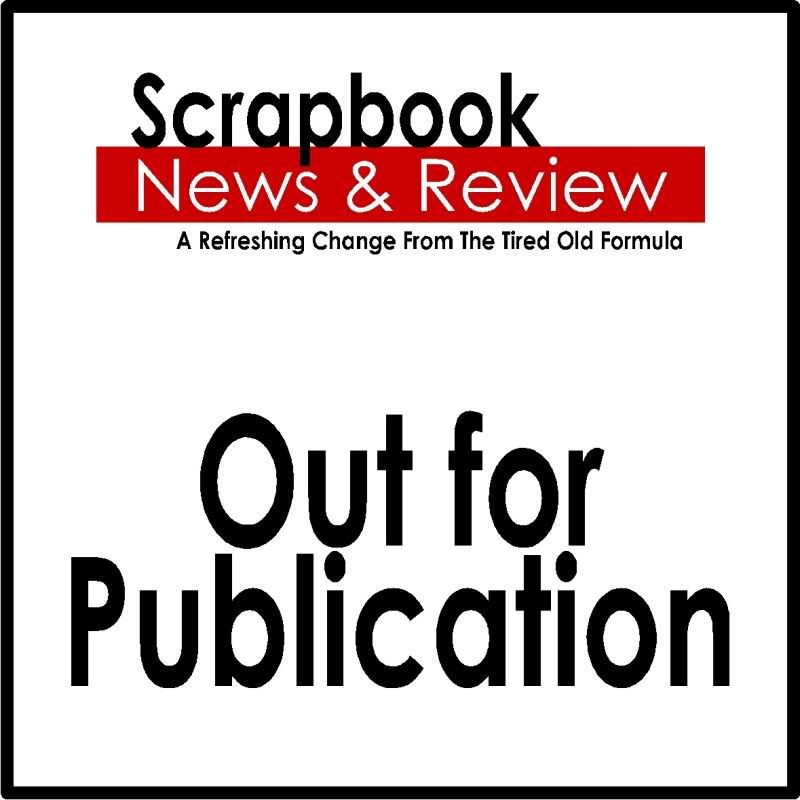 4th of July card Instructions:
8 1/2" x 5 1/2" piece of white cardstock, fold in half with bone folder
3 3/4" x 5" piece of red cardstock
Draw along the edge of red cardstock with gold ink pen
Stamp 13 - 15 small 4th of July images with red pigment ink on extra white cardstock
Heat emboss with red glitter embossing powder
Color in with blue, red and gold markers
Cut around images leaving 1/16" of white around embossed image
Adhere all cut out images onto blue cardstock
Cut around all images leaving 1/16" of blue around the white
Cut 7-9 1" strips of white fibers
Adhere red cardstock in the center of the folded card base
Choose the main embossed image and adhere it to the center front of the red cardstock with two layers of pop dots
Choose five embossed images and adhere them around the center image with one pop dot
Adhere remaining embossed images with mono adhesive around the embossed images from the previous step
Roll the 1" strip of fibers into a ball, try to keep the fibers out of the adhesive, and adhere under the popped up layers of embossed images.
Spread extending fibers into place before adhesive drys.
I hope you enjoy creating a card similar to this. I can this design in several ways. How about creating a Birthday card or New Years card? I hope you have been inspired a bit not only here at my attic but during your journey through the largest blog hop SNR has ever had almost 100 blogs! Big kudos to Anne House for putting this all together with the support from the Scrapbook News and Review staff. Don't forget all the wonderful bloggers who have signed up and participated for this holiday event.

We are having a summer full of paper crafting goodness and just for this event I am going to give you a sneak peek of the class I will be teaching one week from today for Scrapbook News and Review's Spring into Summer Event. My class is

Now, I promised you

some freebies!

As you read before I am SNR's Marketing Director so I will ask nothing more of you then to spread the word of our up coming event. If you leave a comment here on my blog telling me that you have posted on your blog or Facebook or twitter... about Scrapbook News and Review's up coming Spring into Summer Event and leave me a link to where you posted it, you will be entered into a drawing for a ONE MONTH FREE subscription to Scrapbook News and Review! You will need to post this by 10PM CST on Monday July 6th. How easy is that? Just spread the word about this amazing event! There is a graphic below for you to share!

Next, for you

I have your code

...

yes here it is... are you ready? ................

"NOT WHAT"

got it? Do you know what it is yet? Continue to play our code game by hopping through our
Scrapbook News and Review Card Universe
's "Oh Say Can You See 4th of July Blog Hop". Your next blog is...
Go check her out!
I would like to say thank you to all the heroes around the world. Here is a little something honoring my personal Hero and please take a moment to honor those who have been lost and who have fallen.
Thanks for viewing my blog I hope you have a wonderful Fourth of July!!!