Challenge #9 Week #3

PART 2
- Kits, Scrap paper, and die cuts
Several of you have already begun sorting a few of these categories. So we will be going over them quickly.
KITS:
Most kits come packaged in large Ziploc or cellophane baggies. Kits are coordinated and work best if you can keep them together until you use them. They are great for crops those times when you want to produce something quickly. Since most kits will included a color scheme and multiple MGS I would suggest sorting them by theme or kit club you received them from.
You can create you own kits if you wish out of your stash or you can purchase them from various companies and kit-clubs online or at your LSS.
Storage Solutions:
See last challenge for standard paper storage... for example you can have a vertical cropper hopper just for kits, etc.
Clip it up:
http://www.scrapbook.com/gallery/?m=image& id=229442...
A shelf:
http://www.scrapbook.com/gallery/?m=image& id=222679...

Wire tower of drawers categorized by theme:
http://www.scrapbook.com/gallery/?m=image& id=140018...
SCRAPS:
Scraps are a nuisance but since most of scrapbooks are part "collector" then we tend to save them for a rainy day or we pawn them off on our kids. LOL.
Scraps should be sorted like you sorted your PP and CS... if you did that by color then sort the scraps by color. If you did it by theme then ... sort your scraps by theme...etc.
BE REALISTIC!!! Only keep the scraps you know you will use... for example if you cut up 1/2 of a 12x12 piece of paper then you have a 6x12 scrap that can be used on a smaller page, run through a cricut or even to make cards. Don't keep (and I am guilty of this) a random shaped piece of paper big enough for one punch from a decorative punch. What I have come to decide is, if I want to save every little piece is this rule:
It must be at least 4.25"x5.5" to keep in my sorted scraps or I take my punches and punch flowers or hearts or leaves etc. and sort those into my die cuts.
Fallowing this rule keeps my scrap storage organized by size and only usable scraps are saved. My punches and die cut shapes are there for me and my kids to purge at our leisure.
Storage solutions:
Storage Photo Box:
If your determined to use the scraps as photo mats or cards then this will work for you:
http://www.scrapbook.com/gallery/?m=image& id=245336...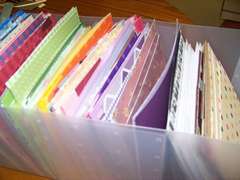 Scrap storage
By
Lifeinthefastlane
File drawer (vertical storage):
http://www.scrapbook.com/gallery/?m=image& id=228950...

File Container:
http://www.scrapbook.com/gallery/?m=image& id=139643...
Plastic drawers (horizontal storage):
http://www.scrapbook.com/gallery/?m=image& id=222969...
Shelves: Ziploc:
Scrap paper storage
By
Shirleyanne4557
Cropper Hopper: Ziploc:
Storage for Paper scraps.
By
Ande
Ziploc hanging on the back of the door:
Scraproom Re-org - Photo 6
By
Deend31
Scrapease file system:
Scrap-eze - way to organize your scraps
By
TriciaH
Binders: (one of the most inexpensive ways to go)
Scrap paper storage
By
Hanging By A Moment
inside my scrap paper binders
By
Hanging By A Moment

DIE CUTS:
Extra die cuts and punches are another batch of little items to sort like chipboard. The majority of the time they are not too large (especially the extra punches). There are not many examples of how to store this on this site's gallery... here is an idea of a container I would use to store my smaller die cuts and extra punched papers... (like I said before I do tend to collect extra punched papers from my smaller scraps before I throw them away).
Plastic divided container:
http://www.scrapbook.com/gallery/?m=image& id=315379...
Baseball card binder:
http://www.vanillajoy.com/die-cut-shape-storage -idea.ht...
In this article:
http://www.scrapjazz.com/topics/Organization/E mbellishm...
they suggest that you do this...
Storage Solution:
To protect your die cuts and stickers and still keep them visible when you want flip through and access them, use clear storage pages. I used baseball card holders, 4 x 6 photo sleeve pages, 5 x 7 photo sleeve pages, full page protectors or special plastic pages made for accent storage. All these options were available at my local Wal-Mart and other discount stores. Any of these pages will fit in standard 3-ring binders.
Storage bins like these work great too:
http://www.accucut.com/Die_Cut_Storage_Bins- c309-p2,309...
Does anyone else have a storage solution to share? I am hoping this will be an easy challenge for you all tonight since we are tackling our paper storage this week.